The AFC South is a peculiar division. It doesn't boast the pyrotechnics of the West, nor the history of the North and East. Instead, with three 'young' franchises, the AFC South often gets viewed as the AFCs forgotten child. In reality, that shouldn't be the case; the Titans and the Colts are two top teams fighting for divisional supremacy, Trevor Lawrence is due to make his debut, and the Texans are a big news story. The AFC South will provide important stories throughout the NFL season; the division is already generating headlines. It's time to assess some training camp battles in this division.
Indianapolis Colts – Jacob Eason vs Sam Ehlinger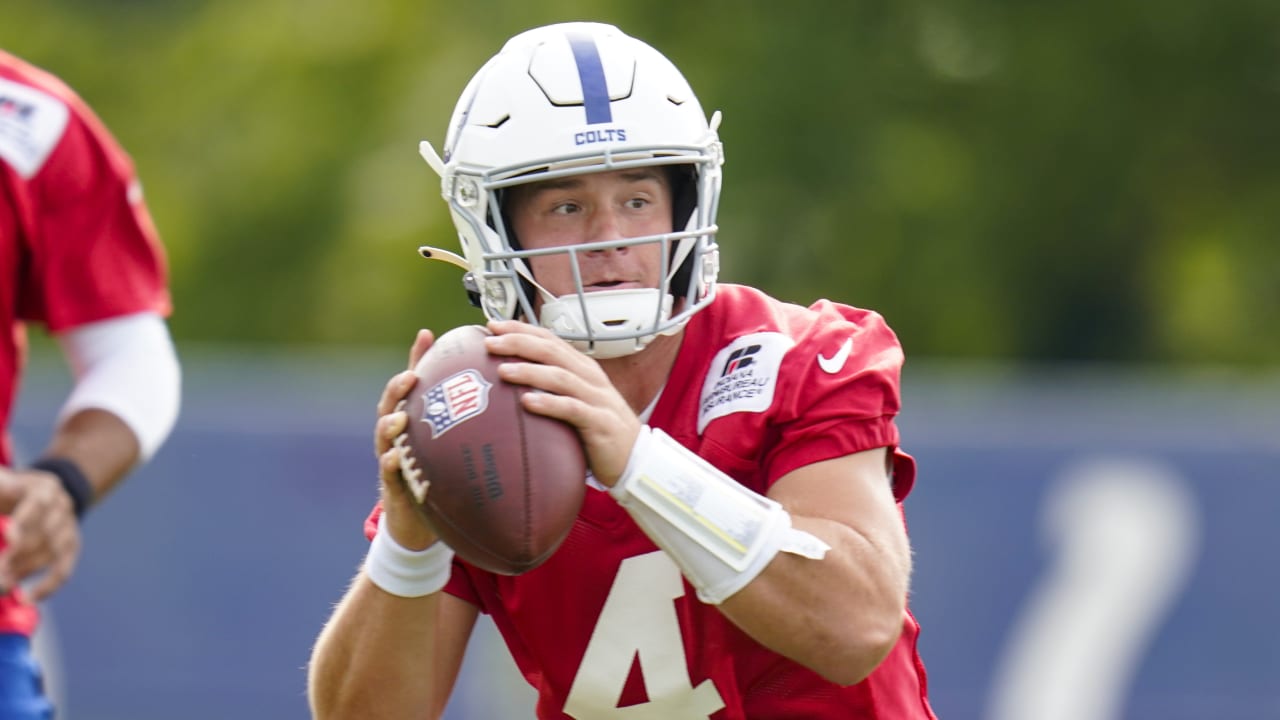 After news broke regarding Carson Wentz's impending surgery on a foot injury from high school, attention swiftly turned towards second-year quarterback Jacob Eason and rookie Sam Ehlinger. With Wentz set to miss the first few weeks of the season, one of these two players will start for the Indianapolis Colts. The Colts drafted Eason in the fourth round of the 2020 draft. The former Georgia passer is now the experienced option on the Colts' depth chart.
It is complicated to judge Eason, which partially explains his 'fall' into round four. He only played two actual seasons of collegiate football before outside circumstances intervened. Nevertheless, Eason is a big, big-armed thrower of a ball who can shine in play-action. He is relatively immobile, but he does attack the field. In theory, Eason's skillset should match well with the Indianapolis offense. A solid offensive line and a brilliant run-game will mask Eason's deficiencies, and they could highlight his strengths. There is one caveat in all of the above, Eason is enduring a tricky training camp. And that is bringing rookie Sam Ehlinger into the equation.
Ehlinger is the physical antithesis of Eason. The Texas native possesses an average arm with poor mobility. On the other hand, Ehlinger anticipates throws, can lead his wideouts, manage an offense, and his intangibles are arguably better than Eason's. His high character allied with decent game-management skills may be enough for him to win a starting job in relief. Certainly, Ehlinger is making an impression on Coach Reich; "Sam's really been good; he's been solid every day." So it shouldn't surprise anyone that Ehlinger is taking first-team reps. With the Colts eyeing an AFC South title, the quarterback performance in the early part of the year may shape the story. Clearly, it is a 50-50 decision right now in Indy.
Jacksonville Jaguars – James Robinson vs Travis Etienne
Despite Urban Meyer's best intimations, there is not a quarterback battle in Jacksonville. Trevor Lawrence is the definitive QB1 for the Jaguars. Therefore, it is worth casting an eye towards who might join Lawrence in the backfield. James Robinson emerged as one of the few positives in Jacksonville's wretched 2020 season. The rookie rushed for over 1000 yards, while he demonstrated adept ability at being patient and hitting the hole with speed. Robinson enjoyed decent running success running behind any part of the offensive line. With his relative success, few expected the Jags to select a running back high in the draft. Yet, in this era of player empowerment, the Jags' front office opted to draft Clemson RB Travis Etienne. The first-year player joins his fellow Clemson-alum Lawrence in a move that many felt got dictated by the quarterback.
Etienne is the all-time ACC leading rusher; he is a powerful heavy runner that shines on inside and outside runs. His burst allied with his agility also means he is a weapon in the receiving game. Etienne's main weakness is pass-protection, which could haunt him when teams send free blitzes in disguise. Etienne is the superstar-in-making, Robinson is the undrafted-rookie-come-good. Both players own a lot of talent; Meyer is still coy on who will be his number one. The ultimate decision may come down to the man lining up in shotgun for Jacksonville. Lawrence and Etienne were a prolific duo in South Carolina; they could become one in Duval County. But James Robinson will have plenty of things to say about that.
Tennessee Titans – Kristian Fulton vs Caleb Farley
Despite their relative success under head coach Mike Vrabel, the Tennessee Titans are a flawed team. The Titans ranked 28th in pass defense last year; opposition teams peppered the Titans' secondary. Tennessee recognized the area of concern, and they tried to rectify it in the 2021 NFL Draft. With their first-round pick, Tennessee selected cornerback Caleb Farley. If Farley were a baseball player, many experts would proclaim that Farley is a five-tool player. They'd be correct in that analysis. Big, quick, strong, fluidity, and athleticism are all on show whenever anyone watches Farley. The former high school quarterback is still relatively new to the position; he's only played 23 games as a cornerback: nevertheless, the Titans brass fell in love with the high ceiling potential of the Virginia Tech player.
With that level of inexperience, maybe it shouldn't surprise anyone that Farley is struggling in training camp. The youngster is learning the hard way as he adjusts to the cornerback position in the NFL. That is why Kristian Fulton is listed as the starting corner on Tennessee's first depth chart. Fulton is in his second year; he got drafted in round two of the 2020 NFL Draft. Fulton is a tenacious, speedy competitive corner with a lot of juice. He battles on plays and tries to be a constant presence, annoying wideouts.
When a franchise spends high draft capital on a cornerback, they expect him to become the number one. However, using a second-rounder on a cornerback may also get considered as high capital. Consequently, the Titans now have two young athletic bucks battling for the starting job. There are flaws within both players' skillset; the Titans may not solve their secondary issues immediately, but whoever wins this battle could help Tennessee unlock some answers for the future. It could also shape the fate of the AFC South title as their rivals fight to find a relief quarterback.
Houston Texans – Sorting Out the Running Back Room
Many experts are projecting that the Houston Texans will be the worst team in the 2021 NFL season. The franchise is enduring a state of disarray; their franchise quarterback wants to leave, the fans are angry at the owner, and the coach and GM search was a farce. Despite all of the problems, the Texans will attempt to prove people wrong during the season.
One of the critical elements of that should be the running back room if Watson doesn't play. Currently, there are eight running backs on the Texans roster. Houston signed Rex Burkhead, Mark Ingram, and Philip Lindsay in the offseason. Given David Culley's background from Baltimore, logic would suggest employing a selection of running backs throughout a game. Indeed, some of these players offer varied skillsets; Irrespective of his age, and veteran status, Ingram is still a tough, willing runner and blocker. Rex Burkhead is a swiss-army knife, although he is coming back from a season-ending injury. Philip Lindsay is explosive, but we've not seen him play at a high level consistently. The Texans are aware they cannot keep everyone happy on the roster, although that matches their relationship with their fans. Houston must choose wisely with this plethora of options; the last thing they need is more unhappy players.
Be sure to read more on NFL Sapient and follow us on Twitter