I had the chance of speaking with Brittain Brown pre-draft about how he's preparing and getting better before getting to show his skills on the biggest stage. Him and Zach Charbonnet were UCLA's dynamic duo in the run game last year, with Brown totaling 615 rushing yards and 7 touchdowns. This past season, Brown owned the best yard per carry average among Pac-12 backs with 6.03. Brown will now look to prepare for the NFL draft.
Tell me about practice and the overall experience, what was that like?
It was super cool even though I came in there a day late. Just being able to be in an all star game, I love all star games, the fact that everybody there has talent and you know you want to go 100% in every rep. I knew that for runningbacks a big thing was going to be 1 on 1's with the linebackers, so I mentally prepared to go against the backers in that setting. We didn't actually do any pass rush type drills, but I did plenty of routes and I wanted to go ahead and dominate that field. Every route I ran I think I had a catch every time and pretty good clearance on the backer so I feel like I did a pretty good job.
Then we got to the team settings, I hadn't played in a while so I was just trying to get back into the groove. I just wanted to show the scouts that whoever I'm going against I'm going to play up to that level of competition, and it's really run to compete with the highest level of guys.
What areas do you feel you excelled in at practice?
Honestly, probably route running. People didn't really know me because it was my first day out there, and I kind of just jumped in randomly so they said ok, let's see what he can do. Right off the bat I started cooking those guys, and some of the coaches were saying that I was doing really good things on the field especially with the route running.
What's a good piece of advice you received from the coaches this week?
I got a lot of knowledge with off the field stuff. We got to talk to Adrian Peterson and some other good running backs and he was just telling us take care of your mental health, one of the biggest things obviously injuries, take care of your body and have your priorities set so you don't get lost along the way is a big thing for a guy who's getting into a routine, and staying on track with things and not letting anyone take you off your track to pursue your goals.
That was really cool talking to some NFL legends and then on the field with my running back coach Edwards. He was just saying small details, pay attention to those too. Hone your game as much as you can between now and until you get into the league. You want to be in shape so you can really show off your talent. As soon as you get to mini-camp, pro day, whatever, you have to be in the best of shape possible, working hard and not really losing a day while staying on schedule was a big thing.
What kind of things are you working on pre-draft?
Obviously all the combine stuff. 40 [yard dash], vert, broad, that kind of thing. What they want to see from me is speed so my trainer is really good at working with 40 times so I think you'll see an improvement with me with the 40. Just running back drills that they want to see me do, so I'm making sure that my agility is up to par, and show them that I can move just as well as any back out there. Just bringing what I learned from the NFLPA game to pro-day to show that I'm able to run routes and catch out of the backfield as well, because that's what they want to see in today's game is a multi dimensional every down back which I believe I am. If I can accomplish that at pro day as well then that's going to be a better chance for me to get drafted.
Tell me more about your relationship with Zach Charbonnet and the both of you leading UCLA's run game
It was fun from the beginning of the season just knowing that you have a partner like Zach. That we're both beasts on the field, we can come in there, mess the defense up, and get them tired. There's another bronco in the stall just waiting to give you some more on the field. I think we just played off each other's energy and competitiveness as well. It's always good knowing that you have two of yourself because it's hard as a running back going in there every play and doing your thing. It was really good to have a tandem like that for our running game. Chip Kelly loves to run the ball so having 2 in the backfield is really his goal.
There's been guys from UCLA in the past like Demetric Felton and Josh Kelley that currently play a complementary role in the NFL. How would you feel in a similar role?
I think that's exactly how I'd fit. I'd fit well in a mold to whether they need a back that can come in and do anything for them, run out of the backfield like Demetric and send him out wide and you got Josh Kelley who's pretty fast and good in the open field, they like to use him in a lot of things and on special teams as well. I just want the league to know I can be useful in any role they see me fit in.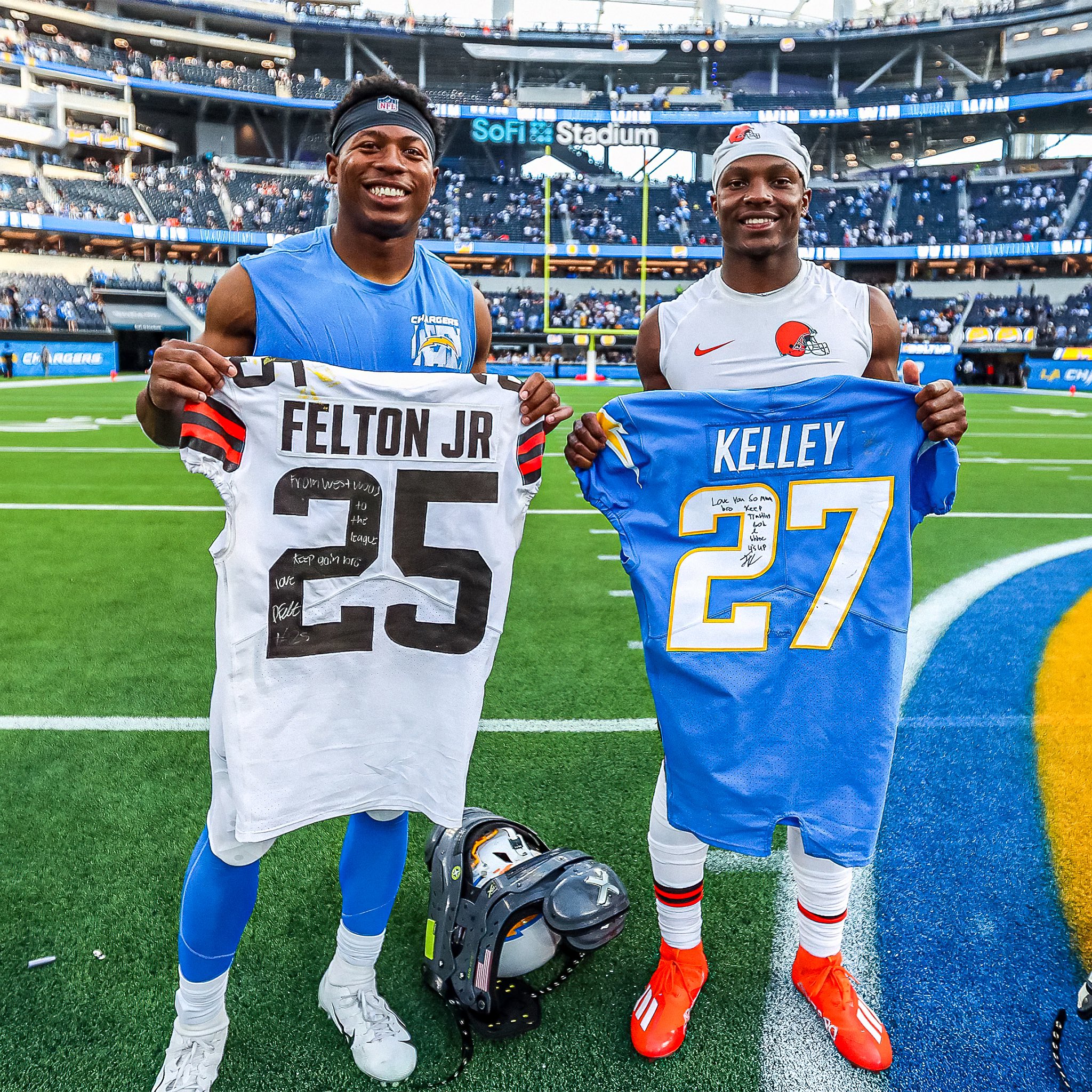 Are there any NFL players you model your game after?
Right now the top backs I'm watching are Joe Mixon and Alvin Kamara. Just because I like how Mixon mixes up his game through power, but he'll juke you in the open field as well. He's probably been my favorite back to watch these past 3 years. They use them out wide or they'll throw to them out of the backfield as a long handoff.
Tell me what it was like being a student athlete and pursuing your master's
It was definitely different from the undergrad experience at Duke. I feel like it was really good of them to let me come in here and try and get a master's in education, it was kind of the beginning program for them, so we were their guinea pigs, and it actually turned out being really cool. I got to learn a lot about management and leadership, coaching skills things like that. It was really easy to go through the grad program and to do football at the same time. They're very mindful of us student athletes here, and actually I feel like they treat football players a little bit better over here than they do at Duke. It's been a good experience overall, and I'm glad I got to get my master's here.
What's your favorite meal after a game?
Probably soul food, I like something a little heavy, some macaroni and cheese, mashed potatoes, and chicken or steak for the meat.
What's your pregame ritual like?
I don't really have a set routine, but I will say I like to get in the zone just by listening to music. Sometimes I'll go back and watch old highlights of myself or the players I've just been watching. For me it's all about getting my mind right, kind of a meditation type thing, before a game, that's how I think about it.
What's your favorite TV show you've been watching lately?
I went back and rewatched breaking bad because I think that's one of the greatest shows of all time. I just started the spinoff on Netflix, Better Call Saul, it's been really good and I've had a good time watching it and it's been something for me to binge when I'm not training